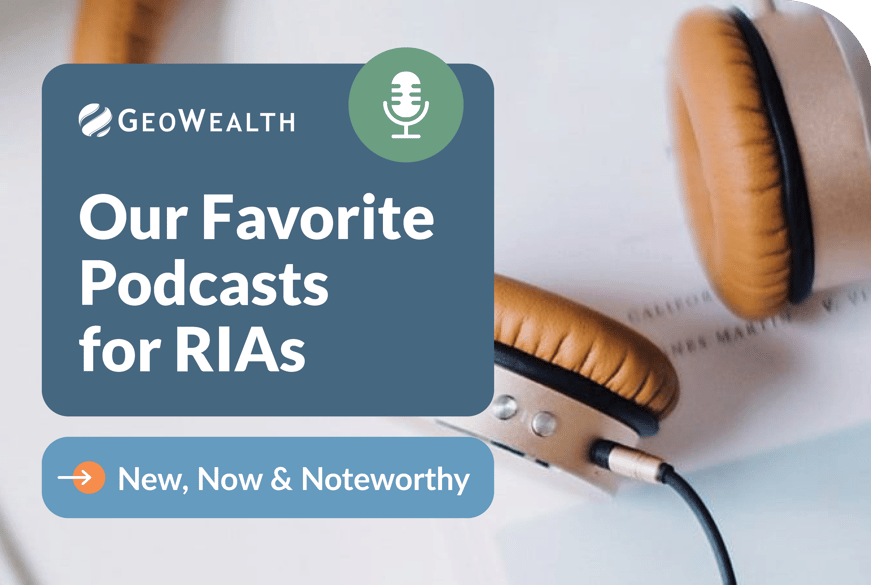 Welcome to the "New, Now & Noteworthy" installment of our curated podcast recommendations for financial advisors seeking to elevate their practice and draw ideas from others working in the industry or commentating on the industry. Whether you're a seasoned professional or just starting your advisor journey, these podcasts may hold nuggets of wisdom, fresh perspectives, or updates related to our ever-evolving industry. Pop in those earbuds and listen in, you'll find something useful that you can use at work or in life.


If you find any new favorites, let me know! If we missed any podcasts that you love, reach out and I'll add it to the list so that other advisors can explore them as well. Happy listening! 😀
1. The Compound & Friends

Josh Brown and Michael Batnick
Join Downtown Josh Brown, Michael Batnick, and a rotation of their friends every Friday for expert insight and hot takes on the latest in business and investing.

2. Animal Spirits

Michael Batnick and Ben Carlson
Animal spirits is a show about markets, life, and investing. Join Michael Batnick and Ben Carlson as they talk about what they're reading, writing, listening to and watching.
3. Trends with Benefits

Ed Lopez
Trends with Benefits is a podcast by VanEck with a forward-looking perspective. Host Ed Lopez interviews a guest each week to discover new ways of thinking about the markets, investing, work and life.

4. Perfectly Integrated
Matt Ackermann
The truth is, managing money requires teamwork, but why and how? Each week we will explore the power of wealth and how to make it work for you instead of the other way around.

5. Due Dilly Podcast

Nik Boucher, Joe Mallen, Jason Van Thiel
The podcast is designed to help financial advisors communicate complex investment-related topics in a simple and effective way. Each month we will discuss equities, fixed income, and economic conditions in the following format: what's important? why is it important? and what do we think about the potential impacts?

CHECK OUT THE REST IN THE SERIES:



DISCLAIMER: This is not an award or endorsement. No compensation was paid to be featured in this blog post. This content is intended for investment professionals. This content is not investment advice and is for informational purposes only. This is not intended as nor is it an offer, or solicitation of any offer to buy or sell any security, investment or product.