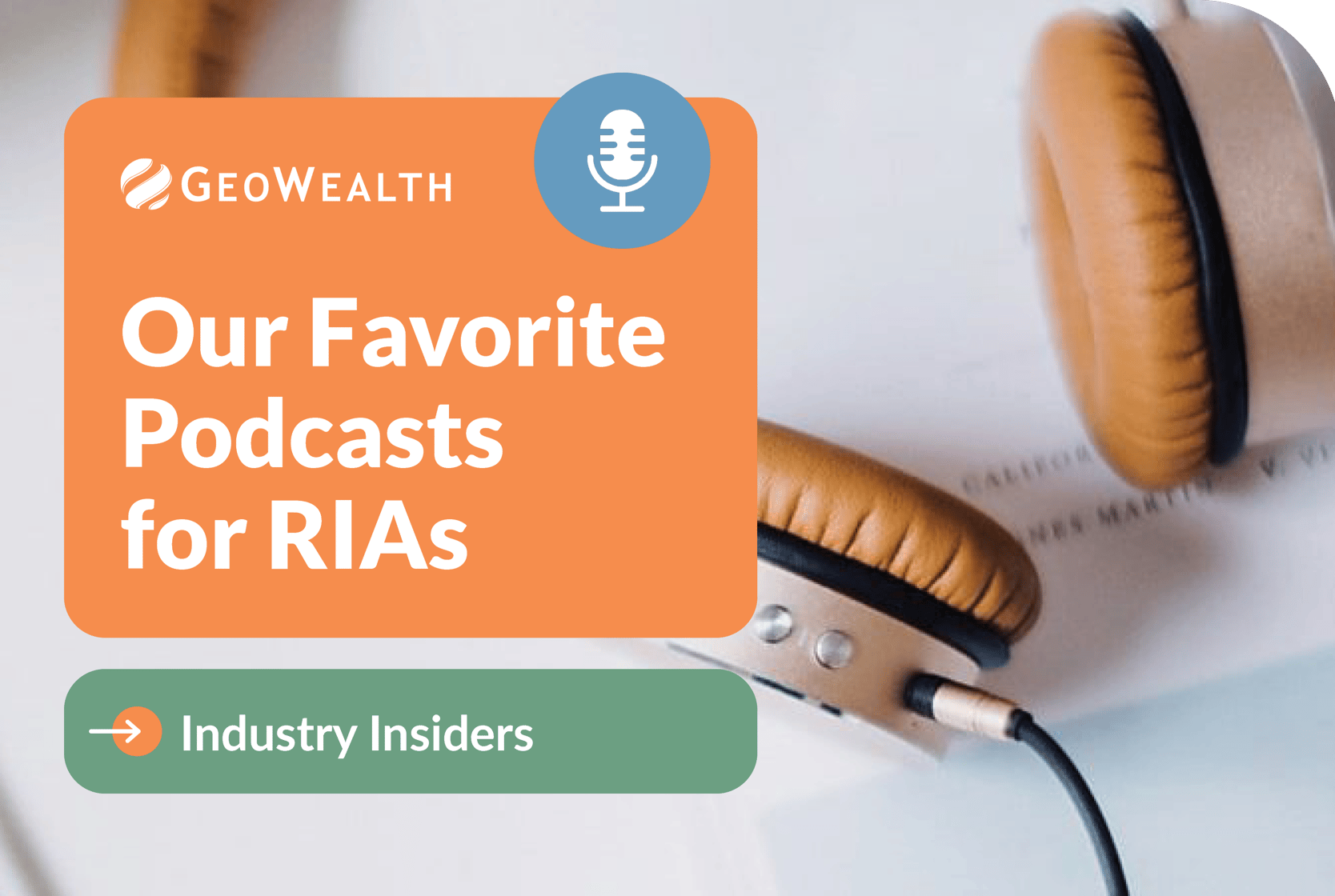 Welcome to the "Industry Insiders" installment of our curated podcast recommendations for financial advisors seeking to elevate their practice and draw ideas from others working in the industry or commentating on the industry. Whether you're a seasoned professional or just starting your advisor journey, these podcasts may hold nuggets of wisdom, fresh perspectives, or updates related to our ever-evolving industry. Pop in those earbuds and listen in, you'll find something useful that you can use at work or in life.


If you find any new favorites, let me know! If we missed any podcasts that you love, reach out and I'll add it to the list so that other advisors can explore them as well. Happy listening! 😀

1. WealthTech Today

Craig Iskowitz
Take a weekly trip to Planet WealthTech with industry thought leader Craig Iskowitz as he discusses, debates and dissects the latest news and trends in wealth management technology.

2. Financial Advisor Success

Michael Kitces
Hear the stories of successful advisors – from firms both large and small, lifestyle and enterprise, RIA and broker-dealer, employee and owner, and everything in between – or from leading industry consultants that work with financial advisors. In each episode, you'll get to hear the perspectives on what real financial advisors are really doing beneath the surface.
3. Financial Planning

Justin Mack
Thoughtful, informed discussions about ideas, trends and developments in wealth management, moderated by Financial Planning editors.

4. The Resilient Advisor
Jay Coulter
This podcast is for financial advisors who want to build resilience in their business and personal life. Each episode brings the best ideas, systems and strategies of the industries top performers. Jay Coulter interviews subject matter experts and thought leaders to help listeners identify ways to improve their business. Topics include investment management, practice management, financial advisor marketing, client service, technology, compliance, ETF strategies, portfolio construction and other timely issues.

5. This Is Uncomfortable

Reema Khrais
This is a show about life and how money messes with it. Each week, Marketplace's Reema Khrais digs in with stories about the unanticipated ways money affects relationships, shapes identities and often defines what it means to be an adult.

CHECK OUT THE REST IN THE SERIES:



DISCLAIMER: This is not an award or endorsement. No compensation was paid to be featured in this blog post. This content is intended for investment professionals. This content is not investment advice and is for informational purposes only. This is not intended as nor is it an offer, or solicitation of any offer to buy or sell any security, investment or product.