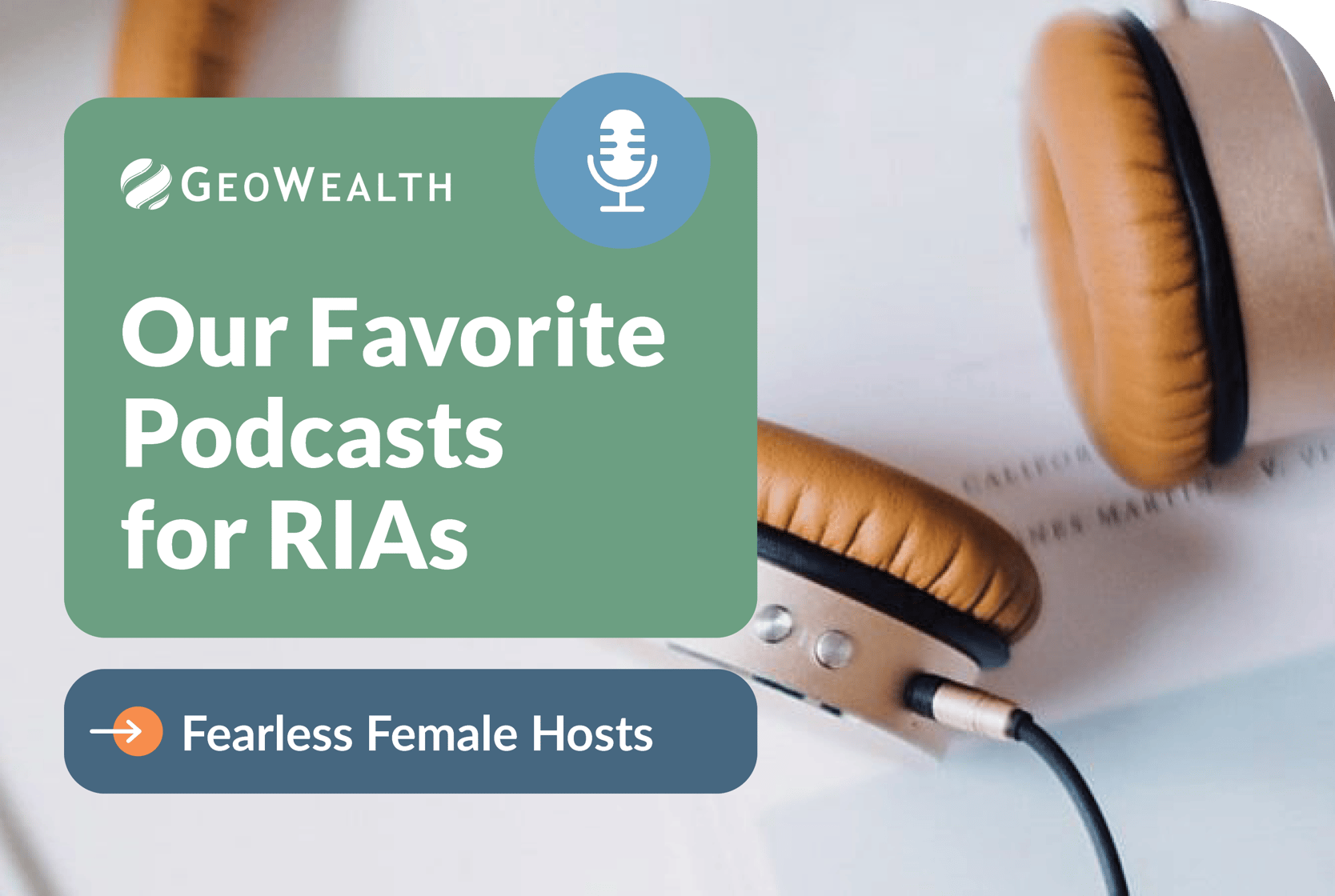 Welcome to the "Fearless Female Hosts" installment of our curated podcast recommendations for financial advisors seeking to elevate their practice and draw ideas from others working in the industry or commentating on the industry. Whether you're a seasoned professional or just starting your advisor journey, these podcasts may hold nuggets of wisdom, fresh perspectives, or updates related to our ever-evolving industry. Pop in those earbuds and listen in, you'll find something useful that you can use at work or in life.


If you find any new favorites, let me know! If we missed any podcasts that you love, reach out and I'll add it to the list so that other advisors can explore them as well. Happy listening! 😀
1. Elementality

Abby Morton and Reese Harper
Discuss how to master the emotional (art) and functional (science) of financial planning. You'll learn how monitoring ongoing financial vitals, diagnosing issues, and prescribing creative solutions leads to increased client trust, meaningful conversations, and practice growth.

2. Humans of Fintech

Nicole Casperson
This season we're bringing you stories of diverse leaders who were once outsiders, and how they since found belonging in our industry. You'll learn how they became the inspiring fintech operators they are today and what they're working on right now.
3. In the Suite

Tina Powell
In the Suite is a podcast that shares amazing stories of women in business in the financial services and wealth management industry. The podcast features interviews with inspiring, top women leaders in business and some of the biggest names in the wealth management industry. In the Suite is where you'll discover their best secrets and top strategies to grow a great business, build a strong brand, and lead teams in the 21st century. In the Suite podcast is hosted by Tina Powell, TEDx Speaker, former NYU Professor, Marketing Consultant and Partner, Chief Growth Officer at Intention.ly

4. The Advisor Lab
Susan Armstrong
Advisor Lab is meant to help Financial Advisors gain insight and inspiration from successful thought leaders across fields and industries. We're helping Advisors get out of their own head by providing strategic & tactical advice from others who've built successful businesses through innovative marketing and communications

5. PRess Play: The StreetCred Podcast

Elena Krasnow and Jimmy Moock
Welcome to PRess Play: The StreetCred Podcast with Elena Krasnow and Jimmy Moock from StreetCred PR. In this podcast, Elena and Jimmy will welcome industry leaders, journalists, influencers, and friends of the firm. Our guests will shed some light on who they are–and the various twists and turns that led them to where they are today. We're grateful to have you listening in and we hope you enjoy the show.

CHECK OUT THE REST IN THE SERIES:


DISCLAIMER: This is not an award or endorsement. No compensation was paid to be featured in this blog post. This content is intended for investment professionals. This content is not investment advice and is for informational purposes only. This is not intended as nor is it an offer, or solicitation of any offer to buy or sell any security, investment or product.