Our From the Desk of the COO series features stories, strategies and solutions from GeoWealth's Chief Operating Officer, Jack Hannah. This ongoing series will provide insights for those working in, or heading up, back and middle offices. Enjoy these views from our resident Operations Guru, Jack!
Jack, what are the operational challenges you see keeping RIA firms from scaling and growing?
In my role as COO at GeoWealth, I've had the opportunity to analyze and consult with countless RIAs about the systems and processes at work inside of their firms. With that lens, these are the top four operational challenges I see getting in the way of scale and growth for RIAs.
1. Selecting the wrong software. I'm not here to throw any tech platform under the bus, but the point I want to make is that some solutions have way too much going on for what RIAs really need. For example, a small shop needs a CRM with basic functionality to run their practice, not a 1,000-horsepower engine with features they couldn't possibly take full advantage of. The same thing goes for trading software. I see some RIAs using insanely robust trading platforms more suited for hedge fund complexities. All that clutter and noise gets in the way of what RIAs are actually trying to accomplish.
So how does a firm decide what to use? At GeoWealth, we've worked with many financial advisors and a number of us are or used to be advisors, so we have a good sense of what advisors need and don't need operationally. This experience allows us to take an extremely consultative approach to each relationship to ensure firms get what they actually need. Take your time making selections and find someone to give you as objective advice as possible.
2. Trying to use too much software. Related to the above point, I often see RIAs trying to use disparate CRM, portfolio accounting, third-party billing, aggregation, and financial planning solutions. It's a classic game of chasing bells and whistles for fringe scenarios. When these tabs don't talk to each other, it creates a huge bottleneck for scale and efficiency — not to mention concerns about data accuracy. As an RIA, it's not about how much software you have; it's about having the right software that enables efficiency instead of impeding it.
3. Not using model portfolios. We're passionate about model portfolios at GeoWealth because of their efficient scale of delivery. But instead of taking a consolidated approach with 10, 20, or 30 model portfolios, I see a lot of firms with hundreds or even thousands of accounts, and every single one has a different mix of securities. There's absolutely no way to scale that. You can't bulk trade because everyone owns different shares, different accounts, and different tickers, so it becomes nearly impossible to keep track of who owns what and why. It also creates a lot of problems when it comes to reporting (not to mention trying to explain how every account has a different allocation (even when risk tolerances are identical).
I mentioned that we're passionate about model portfolios at GeoWealth, but we've also built our platform to be agnostic to the types of model portfolios that may choose to use. We can support models built by professional strategists and asset managers, as well as advisor-managed models that are built and maintained by advisors themselves or by a home office.
4. Not standardizing billing. We've analyzed enough RIA billing practices to know almost immediately whether a firm's billing is going to be a nightmare or a dream. Typically, when every advisor in a firm uses a different billing structure — someone is billing monthly, someone else bills quarterly, another advisor in arrears and yet another in advance (and that is before we even get to proration of flows, breakpoints, etc.) — it creates significant bottlenecks that could be avoided if everyone were on the same page using a billing software. While we completely understand there is no one-size-fits-all approach for a firm with different advisors, firms shouldn't have to spend the first couple weeks of the month or quarter slogging through billing updates and billing runs when taking a more consistent approach could save them so much time and frustration.
✨ Moving beyond bottlenecks. Sometimes it's hard for firms to accurately see what the causes of their issues are; they're in too deep to diagnose. We've gotten pretty good at listening to teams discuss their pain points and helping them narrow in on potential avenues for finding relief, whether that comes via a different technology, redefined staff roles, or some combination. It's fun to get into the weeds with an Ops Team to sort through it, and GeoWealth is always available to consult with a firm to help diagnose if a TAMP can boost efficiency and support scale, all while easing frustration.
Until next time! Thanks,
Jack
P.S. Got questions? Want to chat through your current operations headaches? Hit me up at jack.hannah@geowealth.com.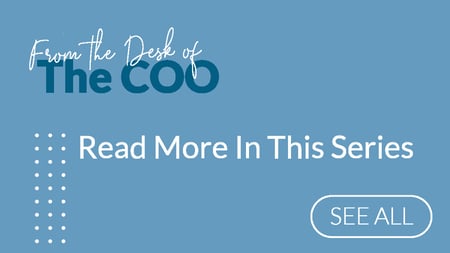 MORE IN THIS SERIES: