Our From the Desk of the COO series features stories, strategies and solutions from GeoWealth's Chief Operating Officer, Jack Hannah. This ongoing series will provide insights for those working in, or heading up, back and middle offices. Enjoy these views from our resident Operations Guru, Jack!
Jack, how did you come to be the Chief Operating Officer of GeoWealth, and what did you learn along the way?
The early days... Let me start by saying I don't think I have a crazy unique story. I've worked almost my entire career in RIA firms. I had the pleasure of starting in the industry in 2008, during a really fun time for everyone (😉), on the bottom rung of the ladder at an RIA in Kansas City. That's where I met Colin Falls, now President of GeoWealth, who was also working in Operations at the same RIA.
In all sincerity, that is an unbelievably great place to begin your career. I knew nothing except what I learned from my college degree, and it gave me the opportunity to learn the operational side of the business. It was formative for me to not only see how a business operates in general, but also to learn the nuts and bolts of billing, reporting and trading. I learned what aggregation and reconciliation meant; I learned how to deal with clients when the markets are up and down. To this day, I still draw from those early experiences.
As it happens, GeoWealth purchased that particular RIA in 2010 and I spent several years working as a liaison between the two now-combined businesses. Colin took the reins at GeoWealth in 2013 and, after a short stint working for a client of the RIA, I was lured back to work at GeoWealth by Colin, where I have been ever since.
I've always worn my fair share of hats at GeoWealth; in fact, I think I've done everything except write code. Operations, trading, business development, a five-year stint as Chief Compliance Officer (glad to hand those reins over!), managing people — you name it — I've probably touched it at some point.
Fast forward to today. We've hired plenty of talented people to take over a number of the roles I had touched. In my position now as Chief Operating Officer, I still refer back to those formative years. Starting out in operations at an RIA and having worked with advisors for over 15 years, I'm able to understand the challenges they face on the operational side, on the practice management side, and on the client-facing side of running their businesses, all of which gives me greater visibility and insight into the adjustments and solutions that will make the biggest impact for their firms.
I'm excited to share with you some of what I've learned along the way in this series. If you read nothing else, though, my very best advice for RIAs struggling with operational efficiencies is to understand that there is no singular magic bullet for your challenges. While the right technology or TAMP is certainly a large step in the right direction, it's much more than just that. In many cases it is a true partner that one needs to be able to understand your firm's unique challenges and one that is implemented and integrated the right way. And sometimes software isn't the answer at all. I've seen countless firms that think they need technology when what they really need is someone who has been in their exact same shoes that can speak their same language and provide timely process improvements.
Advice for the next generation? I think at the end of the day, my advice to anyone in the industry would be to not hesitate to learn from that "bottom rung." There is so much information to be gleaned from watching and understanding how a back and middle office actually work. Or how a client service team actually interacts with end clients (you know, those unsung heroes actually interfacing with your clients!). It's not necessarily an experience that everyone has, but it's invaluable to understand what really makes a firm tick.
Until next time! Thanks,
Jack
P.S. Got questions? Want to chat through your current operations headaches? Hit me up at jack.hannah@geowealth.com.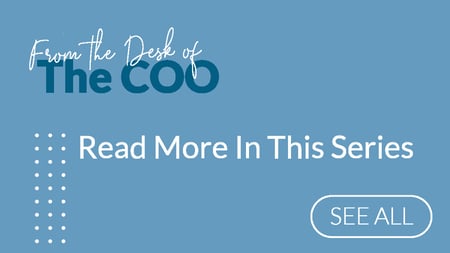 MORE IN THIS SERIES: