Because it's directly correlated to revenue, total AUM is the most common gauge for RIA growth. But AUM fluctuates based on market cycles, meaning it isn't always indicative of the overhead required to operate the RIA.
In down markets, a firm's total number of clients and accounts serves as a more useful indicator of growth, especially when considering fixed operational costs.


New clients and accounts often lead to additional operational costs, driving firm value down.



Regardless of Client Size, Operational Work Stays the Same



A significant portion of an RIA's AUM usually comes from a much smaller percentage of their clients.*





But the remaining 80% of their clients still require the same amount of work as the larger households.

Consider trading metrics as an example of time spent on operational tasks not directly aligned with a firm's value.

Trends in Total RIA Trade Volume

+ New investments requiring thorough administrative oversight and attention: 20-30%
+ Ongoing or one-off maintenance trades that can be automated: 70-80%

As the number of clients and accounts grow, so will the number of new investments, recurring requests and maintenance trades.



Trade Request Type by Year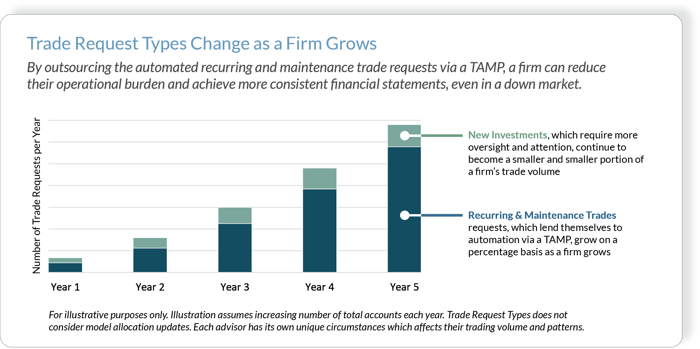 On a percentage basis, the volume of recurring and maintenance trades will outpace new investments, meaning new investments will become a smaller and smaller percentage of total volume.*

To maximize firm value, reduce fixed operational costs by outsourcing the trades that don't require manual oversight to a trading partner.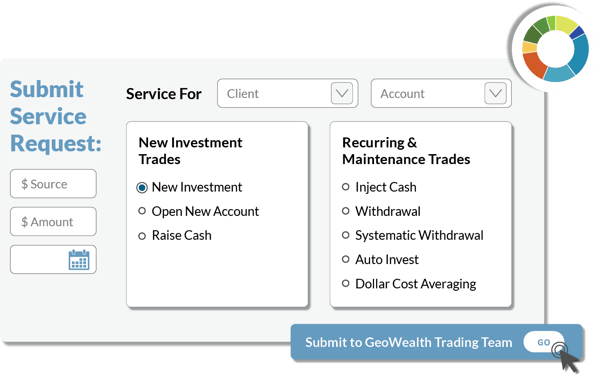 Enhancing your middle- and back-office infrastructure with an automated outsourced solution reduces the operational trading burden to simple service requests executed on behalf of the firm, while reducing the need to add salaries and benefits to the list of fixed costs.

GeoWealth's Trading Team handles trading implementation, monitoring and all requests through a state-of-the-art service center that allows users to view the real-time status of tasks such as opening new accounts, new investments, raising cash, trade holds, liquidations, and more.

For more information about how GeoWealth's outsourced trading solution can help your firm reduce fixed costs while maintaining exceptional client service, click here.

* Based on GeoWealth's internal study of client trading volume from 2020 through 2022.